A Nonya's Beauty Rituals
Jun 15, 2011
*Special to asia!
Have a bird's nest facial at the only Peranakan spa in the world.
Peranakan health and beauty rituals made their global debut at Malaysia's Spa Village at The Majestic Malacca hotel in 2008.
The Majestic Malacca is set on the right bank of the Malacca River. Its Portuguese porcelain floors, teakwood fittings, Dutch antiques and billowing silk curtains point to the blend of cultures represented in this historic town.
Inspired by the elaborate 12-day Peranakan Wedding Ceremony, every guest has a soothing hair care ritual that includes washing, combing and scalp massage.
Based on the Chinese belief that health comes from a good balance of yin and yang (female and male principles), the spa therapies are suited to a person's cool or warm energy.
Designed by a TCM (traditional Chinese medicine) doctor and taking their inspiration from home remedies once commonly used in Peranakan households, the signature rituals are named suam-suam panas (warm) and shiok shiok sejuk (cool).
The spa room at the Majestic Malacca
Upon arrival at the spa, each guest is asked to fill in a questionnaire that determines if they are predominantly cool or warm people as indicated by the health of the skin, temperature, digestion and sleep patterns. The guest's answers allow the therapist to determine if the client would benefit most from a warming or a cooling experience. After diagnosis, certain treatments are recommended.
A cool-energy person is offered a gula melaka (palm sugar) and honey scrub, a hot nutmeg and rice rolling body massage, a pandan leaf and coconut milk hair mask and a facial that uses bird's nest saliva as its main ingredient. This is applied with a cool jade roller and a mask made from fermented tapioca.
The warm energy person is encouraged to have a body scrub made from yoghurt and chopped guava leaves (with natural antibiotic properties), body therapy that involves rolling hard boiled eggs on the body, a calamansi lime and yoghurt hair mask, a bird's nest facial and finally a mask made from fresh starfruit slices. Peranakans give starfruit pride of place in their healing rituals because they are vitamin rich.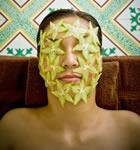 A starfruit facial is prescribed for those with warm energy
A Malay Herbal Wrap treatment that uses a fresh mixture of lemongrass, ginger, galangal and camphor is applied to the body, which is then wrapped in warm sheets. This helps to detoxify, reduce water retention and relieve joint and muscle pain.
To add to the benefits of the spa, a panel of Peranakan culinary experts has concocted nyonya specialities based on the hot-cold principle. A menu of cool energy and warm energy dishes using local produce and typical Peranakan herbs and spices completes the spa treatment.